Transdisciplinary methodology
for Integrated Design in higher education
The goal of High5 project is to create a new methodology - Integrated Design that is based on already existing methods and approaches. Integrated Design combines valuable areas such as problem solving methodologies (Design Thinking and Problem Based Learning), sustainable development, circular economy, innovation thinking and entrepreneurial skills. Integrated Design is an answer to complexity of the world and projects undertaken at universities, in companies and various institutions. It has also its roots in the requirements of the European labour market where people have to be able to analyse a situation, define a correct problem, provide suitable solution and be aware of all consequences of implementation of the chosen solution. This wide perspective is covered by Integrated Design.
High5 project
in numbers:
5
partners from UE
2
Summer Schools (in Portugal and in Greece)
3
International Teachers Trainings (in DT & entrepreneurial skills, Sustainable Development, Gamification)
5
Creative Boost Events in Poland, Bulgaria, Greece, Estonia, Portugal
4
teachers trainings in Integrated Design
3
Transnational Project Meetings
1
Final Conference
Comming
events:
Summer School in Volos
May 2022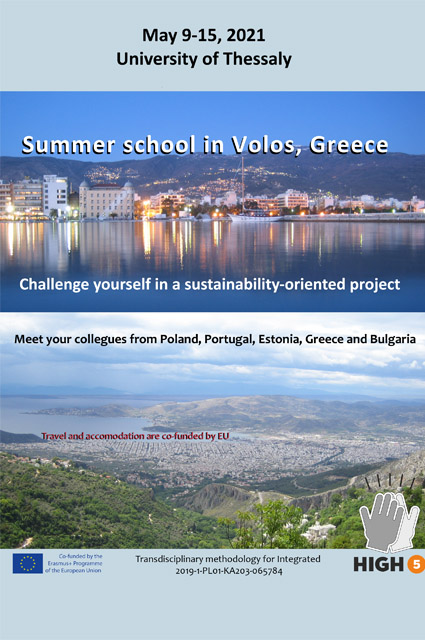 What is the Integrated Design Summer School?
It is an interdisciplinary, international, and multicultural summer school in Volos (Greece) where you will learn various methods of project work combined into Integrated Design steps. Studying, exploring, and designing will be merged with active and creative teamwork.
The topics of the projects will be focused on sustainable development and earth care.
What can I expect from the Integrated Design Summer School?
It is a unique chance to:
• gain knowledge on sustainable development, circular economy and other aspects connected with eco-friendly issues and actions,
• learn various and modern methods of project work,
• experience team building techniques,
• connect with 25 other students and young creative mentors,
• discover Volos and Greece.
When?
The summer school takes place from 9 May to 15 May 2022.
Where?
The school will be held at the University of Thessaly in Greece.
More information about the university: http://old.uth.gr/en/ (or Greek version https://www.uth.gr/) and the city.

The trip follows COVID 19-guidelines and is subject to a health protocol, including a COVID 19-test or vaccination proof. Please check current regulations directly before the trip.
What are the costs?
There are grants for all participants that will cover costs of travel expenses and accommodation.
If you are not vaccinated, you will need to do a COVID-19 test. Please be aware of this additional cost.
Who can participate?
All students from our partner universities are welcome to apply. They should be a current student of bachelor or master study programmes. You must have proficient English skills and be interested in creative thinking, problem solving and teamwork.
How can I apply?
First stage of recruitment process consists of 2 elements:
1. Filling in application form, with EUROPASS attached.
2. Making a short movie, where you introduce yourself and explain what your motivation of participation in this international event is. Please send the movie (or link) by e-mail to high5.erasmus@gmail.com (if there is any technical problems, please contact krzysztof.jastrzebski@p.lodz.pl)
Deadline for the first stage is 28 March 2022.
Second stage is a short online interview. Further information will be delivered.
Information meeting
After the recruitment process we plan to organise Information Meeting to provide participants all essentials. Details will be announced soon.